OPEN GALLERY
by Autocar22 May 2020
Luxury cars – a class comprised in significant proportion of large traditional limousine saloons with one or two oversized hatchbacks and demure SUVs included – are the cars in which high-end executives choose either to drive or to be driven in.
That means they need to offer outstanding comfort both in the front and back seats, a silky smooth ride, excellent drivability and refinement, ample performance – and they must also serve as better status symbols than most things on four wheels. High levels of in-car technology and infotainment are a must, and connectivity systems that will allow such machines to be used as mobile offices are increasingly important.
This list takes in cars that are both incredibly comfortable, great to drive and great to be driven in; and the ones at the top of our rankings are capable of more besides. For our super luxury top ten, meanwhile, where you'll find the even pricier Rolls-Royces, Bentleys and Mercedes-Maybachs of this world, click this way.
When Mercedes-Benz sets out to make a new S-Class, the brief is to make the best car in the world. While it might not visually seduce like a Jaguar XJ, the big Merc offers an ownership experience that should be even more appealing.
This car does what it's supposed to do superbly and is functionally exceptional. It was conceived as a long-wheelbase saloon, giving it unprecedented torsional rigidity, and the ride is helped by standard air suspension with adaptive dampers.
There's a choice of four petrol and two diesel engines, with a nine-speed automatic 'box standard equipment. An advanced 48v hybrid electric powertrain technology used to boost both performance and efficiency in some derivates, while the plug-in hybrid S560e will be the default choice in the range for anyone liable to pay benefit-in-kind tax (it attracts less than half as much BIK tax as any of the other derivative). For those who don't care a bit about such things, meanwhile, there's always the 600-horsepower S63.
The S-Class is engineered to operate quietly and comfortably at all times. On both town roads and motorway it could hardly ride better, and it steers directly and precisely, with luxury-appropriate isolation.
The interior is spacious and supremely comfortable; not quite as well-festooned with technology as some of its rivals, owing to the car's relative age – although the assortment does include a 12.3in infotainment screen and Mercedes' Comand Online system as standard, and a suite of rear-cabin infotainment equipment available as an option.ADVERTISEMENT
Find an Autocar car review
Choose a makeAbarthAC SchnitzerAiwaysAllardAlfa RomeoAlpinaAlpineArielAscariAston MartinAudiBACBentleyBMWBorgwardBowlerBugattiBYDBytonCadillacCaparoCaterhamChangan AutoChevroletChryslerCitroenCupraDe TomasoDaciaDallaraDavid BrownDodgeDSDysonEagleElementalEternitiFerrariFiatFiskerFordGreat WallGeelyGinettaGumpertHennesseyHispano SuizaHondaHongqiHyundaiIneosIneos AutomotiveInfinitiIsuzuItalDesignJACJaguarJannarellyJCBJeepJIAKen OkuyamaKiaKoenigseggKTMLadaLamborghiniLanciaLand RoverLexusLincolnLotusLynk & CoMahindraMarcosMaseratiMaybachMazdaMcLarenMercedes-AMGMercedes-BenzMercedes-MaybachMG MotorMiniMiaMitsubishiMorganMS-RTMurrayNextEVNioNissanNobleOldsmobileOpelPaganiPeroduaPeugeotPininfarinaPolestarPorscheProtonQorosRadicalRamRenaultRimacRiversimpleRoeweRolls-RoyceRoverSaabSeatSenovaShelbySinSkodaSmartSpykerSRTSsangyongSSCSubaruSuzukiTataTeslaTigerToniqToyotaTriumphTushekTVRVauxhallVencerVeritasVolkswagenVolvoVuhlWestfieldWeyXpengZenosZenvoZolfeZoyteThen a model
Driven this week
Read our review
CAR REVIEW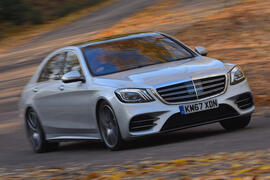 The self-proclaimed 'best car in the world' gets a touch more luxury, a heap of new technology and a mild hybrid electrical system, but is it enough to hold off the latest attempts from BMW and Audi?Read our reviewArticle continues below advertisement
Back to top
On ride comfort alone, the S-Class even challenges the likes of the Rolls-Royce Phantom. Where the S-Class leads, the rest of the car-making world follows.
Save money with new Mercedes S-Class deals from What Car?
The latest Range Rover, the fourth generation of the model, is as revolutionary as any in history, with an aluminium monocoque chassis and an unashamedly luxurious agenda. That it is a luxury car first and 4×4 second is not to run down its capability offroad one jot, however.
The spacious interior exudes quality and luxury, the seats are excellent and the driving position is first-rate, making it easy to drive for a car of its size. The heavy bodyshell provides excellent isolation from rough surfaces and, while it doesn't offer the driving engagement of a Porsche Cayenne, it's easy to make enjoyable and brisk progress should the need arise.
Land Rover's engine range still includes six- and eight-cylinder petrol and diesel options, without a weak or under-endowed-feeling option among them. The one fleet operators will be interested in, however, is the plug-in hybrid P400e (77g/km, 25 miles EV range) which qualifies for company car tax at just 18% BIK.
The car's heavy but its weight is a small price to pay for a car of its incredible breadth of ability. Few cars make you feel as special to ride in, none has better visibility or a more commanding or assured driving position, and very few put a better complexion on your day.
Save money with new Range Rover deals from What Car?
Article continues below advertisement
Back to top
We're now entering reasonably well established times for the premium electric car. There have been fast ones, very fast ones, big ones, small ones, expensive ones and cheap, and some that even attempt a bit of four-wheel driven versatility.
Never has an electric car come along and done onboard luxury better than Audi's first stab at the zero-emissions template: the E-tron Quattro. This car combines four-wheel drive and a commanding outright performance level with SUV-level space, convenience and usability and with Audi-brand desirability. But what really makes it stand out is how superbly hushed, comfortable and refined it is. When we road tested one, our decibel placed its cabin noise level closer, at a 70mph cruise, to that of a Rolls-Royce Phantom than a Tesla Model X.
Audi-brand modern luxury comes with state-of-the-art onboard technology too, of course, while the potential for 150kW public rapid charging, combined with an everyday range of between 200- and 250 miles on a charge, also makes the E-tron a more usable electric car than some of its ilk. Right now, there is no more luxurious electric car in the world than this one.
Save money with new E-tron deals from What Car?
The first bespoke creation from electric car pioneer Elon Musk's firm, the Model S is the machine that brought credibility, luxury, pace and useful range to the electric car market.
With lesser-capacity derivatives now discontinued, there are effectively only two Model Ss to choose from, both using a 100kWh battery pack – and the 'long range' version getting a claimed 379-mile WLTP-certified range that Tesla claims makes it the longest-legged EV in production. You'll need to drive the car pretty conservatively to reproduce that range figure in real-world use, but even getting within 80 per cent of it would make this a singularly usable electric car for a great many.
The Model S can take off with the ferocity of a super saloon, but even more wonderful is how precisely and effortlessly you can meter out its pace, and how quietly it can be delivered. The car's credentials as a luxury car are very good, while its large, quiet cabin and massive cargo spaces are also key selling points. For a select niche, it will make financial as well as environmental sense – especially allowing for the 0% benefit-in-kind tax status that has been recently restored to UK-registered EVs.
Article continues below advertisement
Back to top
Save money with new Tesla Model S deals at What Car?
The latest Audi A8 features even more advanced chassis, powertrain and in-car technology than the latest Mercedes S-Class including, when it's finally switched on, what promises to be the greatest capability for autonomous driving of any production car in the world.
There's a choice of turbocharged engines – a 282bhp diesel or 335bhp petrol – with four-wheel-drive as standard and a 48V electrical system that gives it mild hybrid status. Higher up the model range you'll find the tax-saving six-cylinder petrol '60 TFSIe', whose refinement and effortless responsiveness really boost the appeal of the car's driving experience – as well as the range-topping V8-powered S8 executive express.
The A8's quality interior feels like it was built to outlast civilization itself, although it lacks the elegance and ambient warmth of the S-Class. The ride is smooth and the car is easy to drive, although it's not quite as pillowy and luxurious as its key German rival, and not quite the Mercedes' equal in the ways that matter most.
Save money with new Audi A8 deals from What Car?
Since launch in 1977, the 7 Series has been in the shadow of the Mercedes S-Class, but this latest version is BMW's most committed attempt yet to fully crack the luxury saloon market. The car combines optional adaptive air suspension with pioneering infotainment and convenience features, and offers a choice of two wheelbase lengths and rear- or four-wheel-drive.
Article continues below advertisement
Back to top
The interior trim conjures a sense of space, integrity and usability, although the fascia is perhaps a bit too similar to that of lesser BMW saloons and lacking in lavish material flourish. Engines are quiet, powerful and efficient, the range opening up with the familiar six-cylinder turbodiesel option, but also taking in the most BIK-tax-friendly plug-in hybrid option in the limousine class in the shape of the 745e, and culminating with one of only a handful of remaining twelve-cylinder limousine options in the M760Li; and both are impressive works of engineering. Handling is more poised and precise than rivals – although the ride isn't quite as well-isolated.
An unexpectedly appealing driver's car, then, but it falls behind rivals in the luxury stakes.
Save money with new BMW 7 Series deals from What Car?
There has been a Jaguar XJ at the pinnacle of the firm's saloon range since 1968, and the most recent version is a confident, forward-looking expression of the firm's revival.
The sportiness hinted at by those sleek lines is reinforced by an excellent-handling chassis. The XJ's cabin offers a sense of style and drama German rivals can't muster, even if it doesn't compete in terms of sheer material quality and trails in terms of interior tech.
But the XJ is defined by how it drives – possessing something of the sportiness of a Maserati Quattroporte and the aloofness of a Mercedes S-Class. The only engine now available is Jaguar Land Rover's long-lived 296bhp SDV6 diesel. But what results is a car with rare poise and decent performance, without too many compromises, and a really likeable GT car to boot.
Save money with new Jaguar XJ deals from What Car?
Article continues below advertisement
Back to top
Don't think of this as an enlarged X5, says Munich, but rather a jacked-up 7-Series that's been readied for limited off-roading work. That description doesn't much account for the fact that the X7 is a seven-seat, two-box passenger car with an extended roofline, of course – but it does tell you about the priorities that BMW's designers and engineers had when it came to refining and tuning the car.
The car comes with a choice of two turbodiesel and two turbo petrol engines in the UK. The 'M50d' version of the car offers fully 394bhp and more than 500lb ft of torque, while the V8 'M50i' petrol winds the performance dial all the way out to 523bhp.
On the road, the X7 handles its size and bulk well, feeling surprisingly precise and athletic when cornering. Even the car's diesel engines are smooth and refined, developing enough torque to move the car along easily, while its ride is comfortable without running out of control.
A slightly ordinary cabin, light on special material touches and differentiation from BMW's lesser SUVs, and that controversial front-end styling are the car's biggest disappointments. With that oversized grille, some would call the X7 ugly – but few would deny its competence or its completeness as a luxury car.
Save money on new X7 deals from What Car?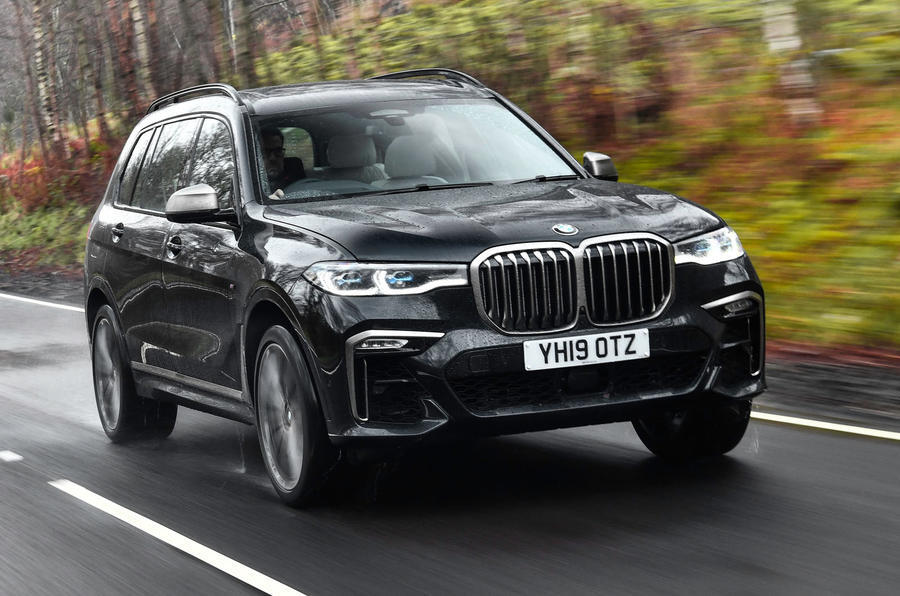 A large five-door hatchback, the 5 Series GT replacement is an interesting, if oddball, choice of luxury transport.
The 6 Series GT has the same wheelbase as the 7 Series and, despite a lowered roofline, retains the raised seating position of the 5 Series GT. The interior feels comfy, upmarket and well-appointed, with plenty of room for four.
BMW's six-cylinder 296bhp diesel engine confidently transmits power through the all-wheel-drive system, although you need to rev it to hear the six cylinders. It's probably the engine best-suited to hauling the car's mass, with a cheaper four-cylinder 620d option and a four-pot 630i turbo petrol also on offer (although they struggle to provide the right kind of effortless aura) and a range-topping 640i six-pot turbo petrol (whose talents seem a little bit wasted in the car).
Article continues below advertisement
Back to top
Add a strong though slightly brittle ride and, while it might not be as elegant as an Aston Martin or as outwardly desirable as the luxury car norm, the 6-Series is exceptionally roomy and reasonably well-qualified as a leftfield executive GT.
Save money with new BMW 6 Series deals from What Car?
The LS has always been a niche choice in the UK, but its success elsewhere has guaranteed this latest version a seat at the top saloon table.
The car's had a major styling overhaul, and the interior feels both modern and luxurious in a likably unconventional way. There are four trim levels, the top one coming with plenty of equipment and, spec-depending, also a rare kind of material richness that few cars in the world can match.
Dynamically, the LS is less convincing as a luxury item. The 3.5-litre hybrid V6 has to work hard to cope with the car's 2420kg weight, and while the car's handling is quite impressive, its noisy and slightly brusque runflat-shod ride is quite the opposite.
Against the latest S-Class, 7 Series and A8, the LS is an interesting alternative but still not the most credible of rivals.
Save money with new Lexus LS deals from What Car?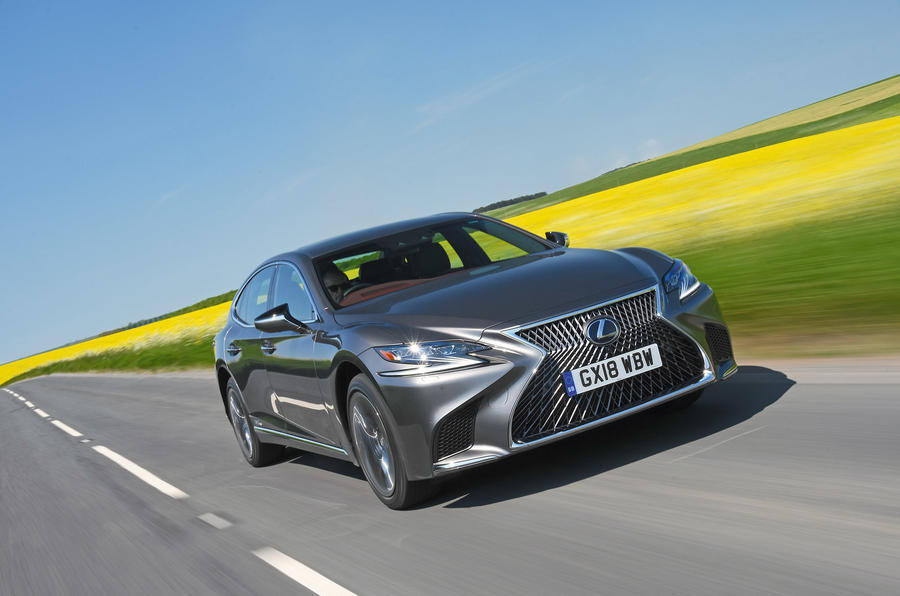 Article continues below advertisemen