1. Maldives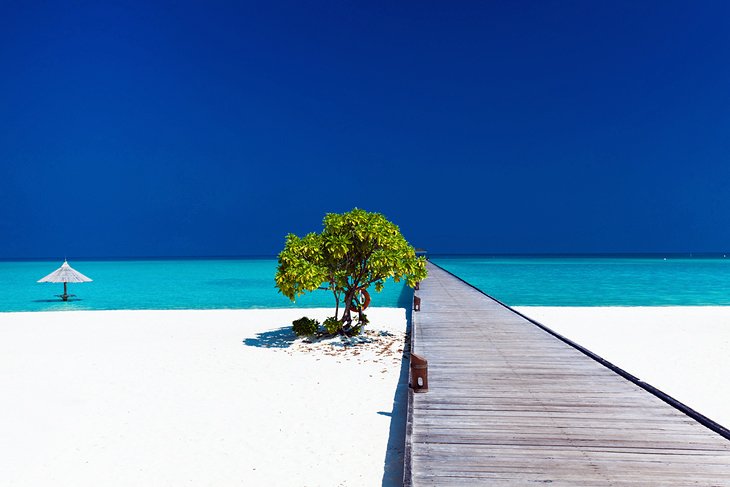 Strung across the Indian Ocean southwest of India and Sri Lanka, the 26 natural atolls of the Maldives exude an almost surreal beauty due, in large part, to the luminous blue waters that surround them. If slipping into the crystal-clear, soul-warming sea is a top criteria for your perfect tropical vacation, this is the place to do it, as water comprises 99 percent of the Maldives. Paradoxically, it also threatens to inundate the shores of this low-lying island nation.
Male' is the capital city, but most visitors head straight out to one of the remote atolls, where luxury resorts and bone-white beaches fringed by aquamarine waters await. Diving and snorkeling are world-class, and the Maldives is also a top surfing destination with the most popular surf spots in the North and South Male' Atolls.
Other popular activities here include swimming with manta rays and whale sharks as well as big-game fishing. With water being a focal point and so many islands to choose from, the Maldives is also the perfect candidate for a cruise vacation.
Accommodation: Where to Stay in the Maldives
Recommended Resorts:
2. Bora Bora, Tahiti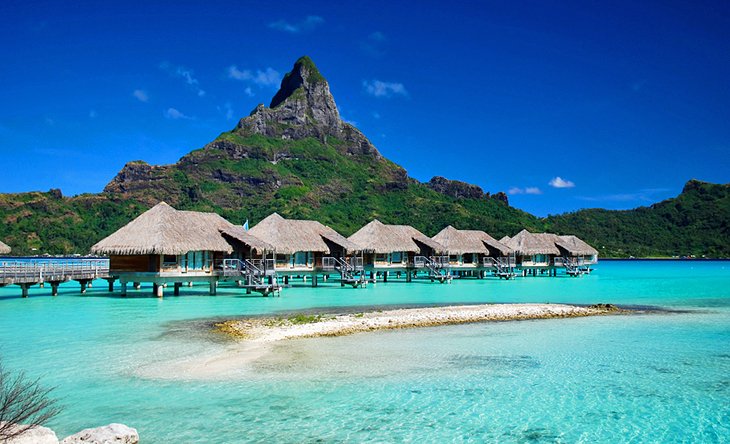 Bora Bora is the quintessential South Pacific paradise. This lush and dramatically beautiful island in French Polynesia rises to a sharp emerald peak ringed by an azure lagoon. Clusters of coconut palms bristle along the beaches, and luxury bungalows perch over the crystal-clear waters, some with glass floor panels, so you can peer into the thriving sea below.
While Bora Bora scores top points for natural beauty, it also ticks the box if you're seeking some cultural appeal. The official language is French, and you can taste the Gallic influence in the gourmet cuisine. Add a bevy of fun water sports, kayak trips to tiny motu (islands), picturesque hiking trails, and adventures such as shark dives, and, it's easy to see why many travelers rank pricey Bora Bora as a top honeymoon destination and the ultimate, once-in-a-lifetime place for a tropical vacation.
Accommodation: Where to Stay in Bora Bora
Recommended Resorts:
3. Riviera Maya, Mexico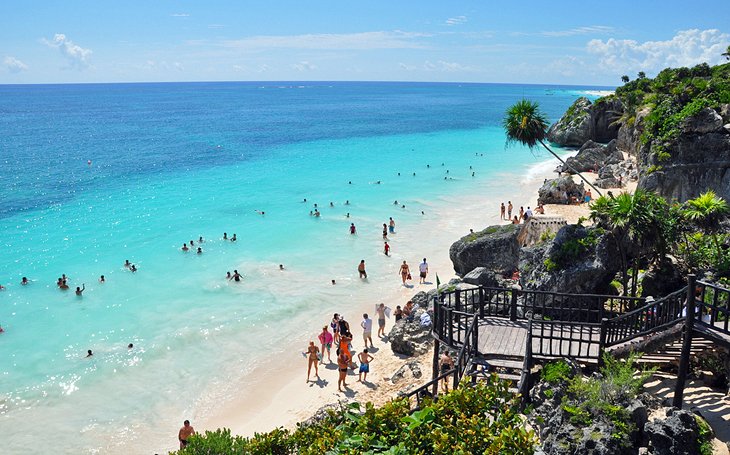 If you're looking for beautiful beaches, culture, and zesty cuisine all wrapped up with an affordable price tag, the Riviera Maya (Mayan Riviera) in Mexico is a great choice. On the tip of the Yucatán peninsula, along the Caribbean coast, the Mayan Riviera encompasses the resort destinations of Cancún, Playa del Carmen, and the island of Cozumel.
You don't have to stay at a big bustling all-inclusive resort here, though you'll find plenty fronting the long, postcard-worthy beaches. Intimate boutique hotels and yoga retreats are also in the mix. Swimming with stingrays and dolphins, diving, snorkeling, and fishing are popular activities in the warm, clear waters, and culture vultures can explore the magnificent ancient ruins of Tulum, in a stunning setting above the turquoise Caribbean Sea, or Chichén Itzá, a few hours' drive away from the resort strip.
Accommodation: Where to Stay in Riviera Maya
Recommended Resorts:
4. Editor's PickAitutaki, Cook Islands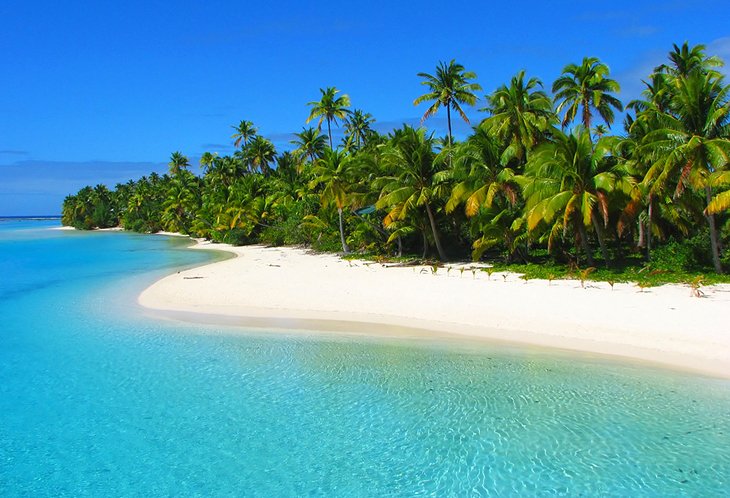 Aitutaki in the Cook Islands, with close ties to New Zealand, is a dream destination for would-be castaways. Blessed with a luminous aqua lagoon, lush peaks, sublime beaches bristling with palms, and some of the friendliest people in the South Pacific, Aitutaki ticks all the boxes for the perfect exotic tropical vacation.
Rarotonga is the largest of the Cook Islands, and the main tourist gateway, but Aitutaki, a 45-minute flight away, is the jewel in the crown, and that's saying plenty in an archipelago of 15 ravishing tropical isles. Swimming, snorkeling, kayaking, and fishing are all fantastic, and the island offers a window into the laid-back village life, which slows to a halt on Sundays for church services.
More than 20 motu (small islands) are sprinkled around the lagoon, and the small island of Tapuaetai (One Foot Island), in its southeast corner, is a popular excursion with a beautiful perspective of the lagoon. If you really want to splurge, opt for a luxurious over-the-water bungalow. From here, you can paddle to your own private motu, plonk down under a palm tree, and pretend you're Robinson Crusoe for a day.
Accommodation: Where to Stay in Aitutaki
5. Kaua'i, Hawaii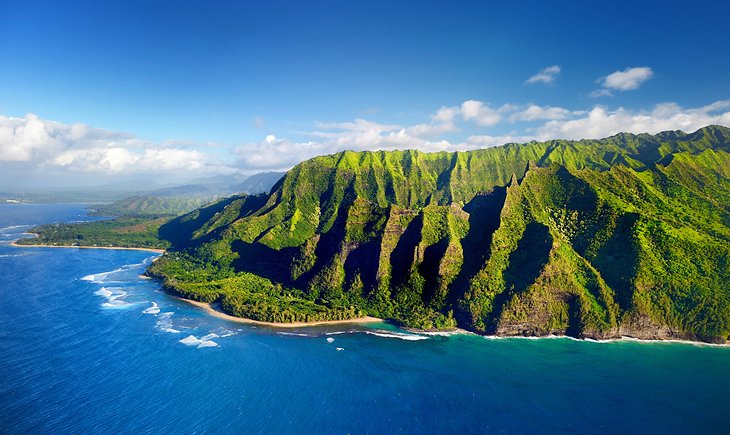 Called the Garden Isle, Kaua'i is a tropical Eden, with lush rainforests, waterfalls, and spectacular green coastal peaks. A natural masterpiece of dramatic lava-sculpted landscapes, the island has a more laid-back vibe than its popular sister islands of Maui and Oahu. Though Kauai is known for being home to one of the rainiest places on earth, the island is comprised of several microclimates, and the area around touristy Poipu tends to be drier.
Underwater, you'll find colorful coral reefs, where turtles and tropical fish swim. On land, you can bask on golden beaches, admire the cloud-capped scenery from the cliffs above Hanalei Bay, hike among the velvety peaks of the breathtaking Napali Coast, and explore the deep and jungly 10-mile-long Waimea Canyon. Tropical gardens, waterfalls, cute coastal towns, and fantastic surf breaks are other top tourist attractions.
Don't be surprised if you find yourself sharing the beach with slumbering monk seals; nature reigns here, and that's a big part of the island's allure.
Accommodation: Where to Stay in Kauai
6. The Mamanuca Islands, Fiji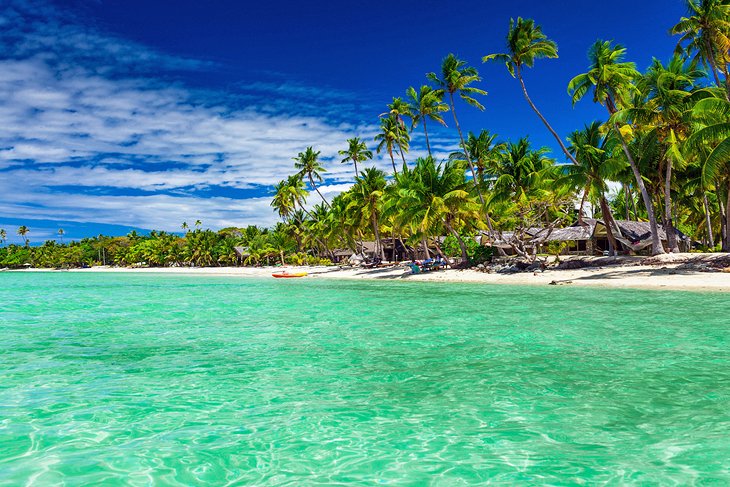 If you're dreaming of an idyllic South Seas island bathed in sunshine, the Mamanuca Islands in Fiji fit the bill. A short boat ride from the gateway town of Nadi, this picture-perfect string of about 20 islands are popular for their gleaming palm-studded beaches, crystal-clear waters, and thriving coral reefs. When you first glimpse these tropical beauties, it's easy to see why Survivor and the Tom Hanks movie Cast Away were filmed on islands in this chain. When choosing where to stay, your budget and interests will determine the best Fiji island for you.
Accommodation ranges from lively backpacker resorts to family-friendly hotels with thatched bures (traditional huts), and luxury hideaways like Vomo Island Resort, Likuliku Lagoon Resort, and the adults-only Tokoriki Island Resort. Popular mid-range resorts include Matamanoa Island Resort, Malolo Island Resort, Mana Island Resort, and Castaway Island.
One of the planet's top surf breaks, Cloudbreak, lies about a mile away from Tavarua Island Resort, but you can access this legendary break from other island resorts as well. Fijians love children, so this is also a fabulous destination for families with youngsters looking to relax.
Accommodation: Where to Stay in the Mamanuca Islands
7. St. Barts, The Caribbean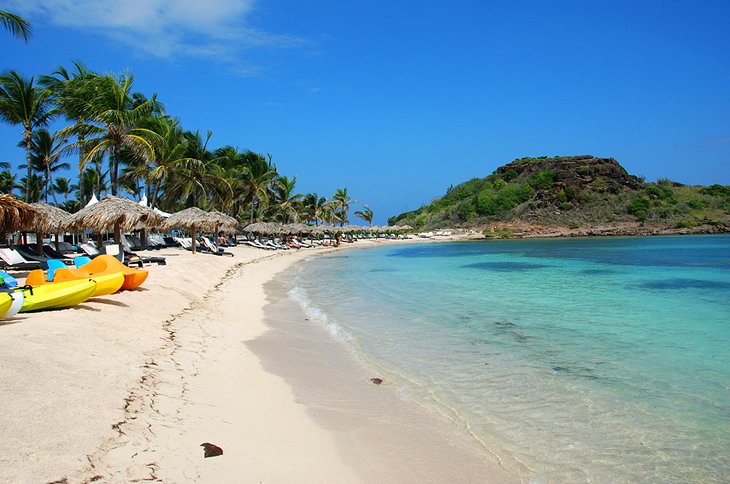 If you like the glittering jet-setter scene, private villas, and pretty beaches, French-influenced St. Barts should be top on your list. But it all comes at a price. A constant stream of visiting movie stars and mega-moguls means that accommodation and food costs more here than other destinations – especially during high season. However, in return, you'll find beautiful blond beaches backed by green hills, world-class shopping and dining, and a cultural sophistication that many other tropical destinations lack.
Like everywhere, low season offers great deals, and all the beaches are public, so you can hide away in a private villa or boutique hotel and live the life of the rich and famous for less. Besides basking on the beaches, shopping, and feasting on mouthwatering continental delicacies, popular activities here include snorkeling, diving, kite-surfing, kayaking, fishing, surfing, and sailing.
The top beaches are Saline Beach, Gouverneur Beach, and Lorient, and the red-roofed capital of Gustavia is one of the prettiest towns in the Caribbean.
Accommodation: Where to Stay in St. Barts
8. The Abacos, The Bahamas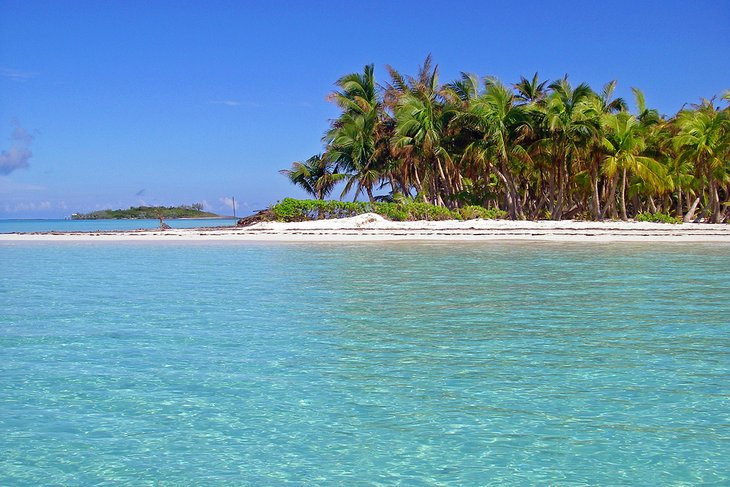 Almost 300 kilometers east of Florida, the beautiful Abacos, in the Bahamas, offer some of the world's best waters for boating and sailing. These peaceful Atlantic islands, also called the Out Islands or Family Islands, seem a world away from the crowded tourist strips of nearby Florida, with their secluded pine-fringed beaches; flourishing coral reefs; and sleepy fishing villages, where golf carts and boats are the main mode of transport. British Loyalists settled these islands, and you can witness this heritage in the cute and colorful colonial cottages lining the narrow streets.
Prime areas for a low-key vacations include cute Elbow Cay, with its famous candy-striped lighthouse; charming three-mile long Green Turtle Cay, which feels like stepping back in time to the old Bahamas; and Treasure Cay, on Great Abaco, with its ravishing white-sand beach lapped by waters in technicolor turquoise. Guana Cay, Walker's Cay, and Man "O' War Cay are other popular islands. Favorite pursuits include fishing, diving, snorkeling, relaxing, and chatting with the locals, and with miles of pristine beaches, it's easy to find your own private patch of soft, white sand.
Accommodation: Where to Stay in the Abacos
9. Ambergris Caye, Belize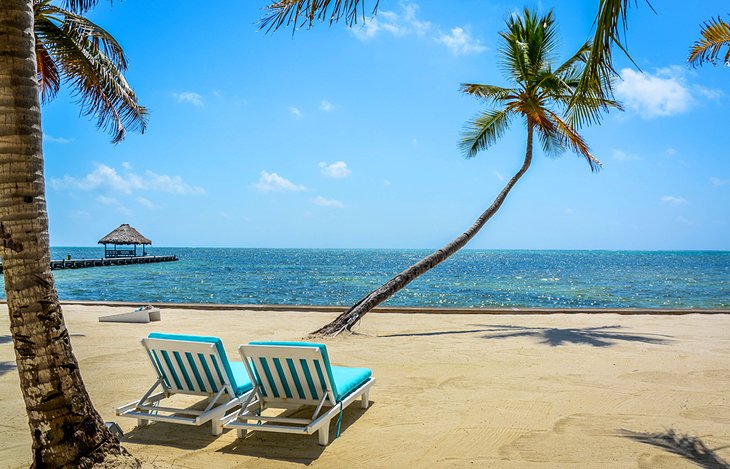 Off the tip of the Yucatán Peninsula, Ambergris Caye in Belize is one of the country's top tourist destinations and the largest of its 200 cayes. While its Caribbean beaches are generally better for fishing than swimming, thanks to their flourishing turtle grass flats, the magnificent Hol Chan Marine Reserve more than compensates with superb diving and snorkeling less than a half-mile from shore.
This underwater wonderland is part of the Belize Barrier Reef system, the second largest barrier reef in the world after the Great Barrier Reef in Australia. Shark Ray Alley is a popular site, where divers can come face to face with nurse sharks and stingrays. Anglers also flock here to prowl the flats for bonefish and try their luck for permit, tarpon, snook, and barracuda.
Part of the island's charm is its colorful town of San Pedro, where golf carts rule the streets, and funky restaurants showcase fresh seafood and Mexican-inspired cuisine. Since the northern part of the island lies a stone's throw from Mexico, the island has a strong Mexican influence, and many locals speak Spanish.
Accommodation: Where to Stay in Ambergris Caye
10. Dominican Republic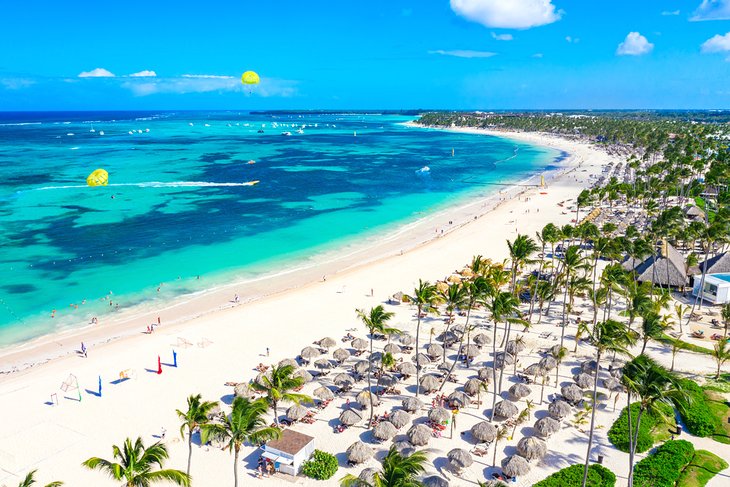 On the eastern side of the island of Hispaniola, the Dominican Republic is a top choice for budget-minded travelers, but this popular vacation destination is much more than glorious beaches and great-value resorts. Rich in history and culture, "DR," as it's called, also boasts some of the most diverse eco-systems in the Caribbean, with steamy jungles, deserts, mangroves, coral reefs, savanna, and soaring green peaks.
Venture away from the tourist strips of Puerto Plata, Punta Cana, La Romana, and Samaná, where all-inclusive resorts cluster along idyllic sweeps of palm-fringed beach, and you'll discover a world of adventures. You can climb the highest peaks in the Caribbean, raft the white waters of the Río Yaque del Norte, hike to waterfalls through the steamy jungle, and bike through pine forests along alpine trails. Cultural attractions are also a highlight.
The capital, Santo Domingo, is a UNESCO World Heritage Site, with charming colonial architecture and a fascinating history. But if you just want to bask on a beautiful beach, dive, swim, surf, and snorkel, you'll find plenty of opportunities to do that, too.
Accommodation: Where to Stay in the Dominican Republic
11. Bali, Indonesia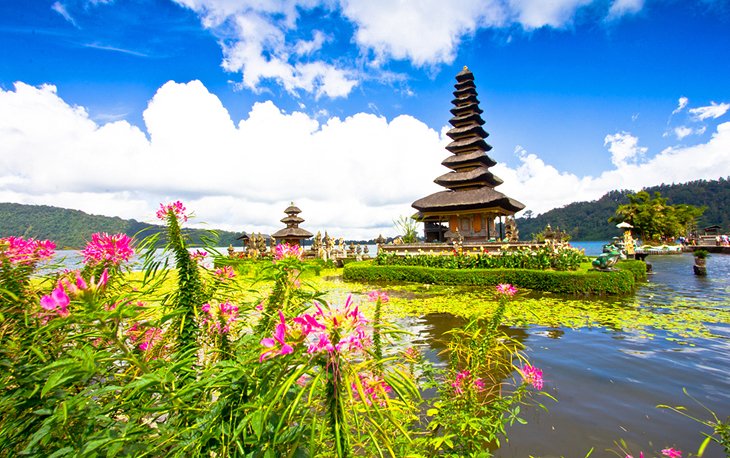 For those seeking a tropical vacation with a spiritual side, Bali beckons with its mystical charm. Temples filled with fragrant incense; rice paddies glowing in the late amber sun; and the calm, gentle people of Bali add to this island's irresistible allure. If you're seeking a lively beach scene, with plenty of shops and restaurants, base yourself in busy Kuta or Seminyak, where you'll also find fantastic surf beaches. Sanur is a great spot for families, with its gentle waves, and Ubud, in the lush hills away from the coastal hubbub, is the island's emerald soul.
Bali is also known for its relatively affordable spa treatments, so you can pamper yourself without the sticker shock. Accommodation includes everything from cheap-as-chips hostels to luxury villas staffed with personal chefs and drivers. The neighboring volcanic island of Lombok is also a popular destination, with less development than its famous sister island.
Accommodation: Where to Stay in Bali
12. Port Douglas, Australia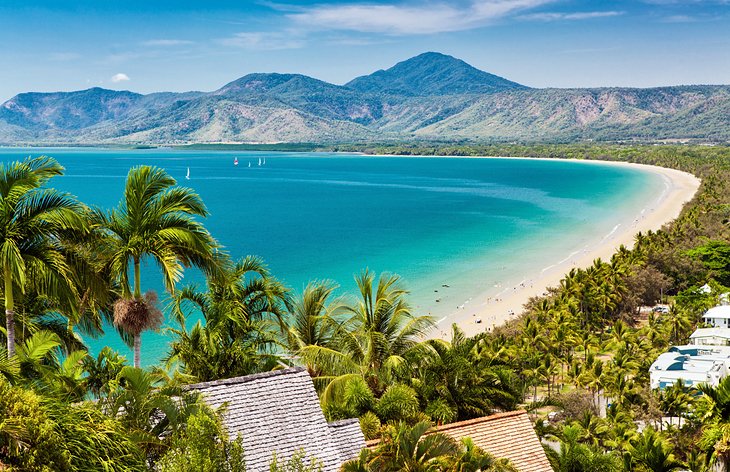 About an hour's drive north of Cairns in Queensland, Port Douglas is an ideal destination for adventurous nature lovers. This upscale town has evolved from its humble origins as a snoozy fishing village into a popular tropical tourist resort and a handy base for reef trips and wilderness safaris.
Two of the richest ecosystems in Australia lie a short hop from here: the Great Barrier Reef, with superb diving and snorkeling, and the Daintree Rainforest, part of the Wet Tropics World Heritage Site, which tumbles to the reef-dappled waters of Cape Tribulation. The town's leafy streets are lined with mango trees and palms, as well as a cluster of upscale shops, cafes, and art galleries, and its star feature is Four Mile Beach, a blond crescent of jungle-fringed sand. Swimming is restricted here during marine stinger season (November through June), however it's always a favorite spot for a stroll.
Other prime tourist attractions include the Wildlife Habitat and the Bally Hooley Sugar Train, which chugs through sugar cane fields to Mossman. Fishing trips and northbound expeditions through the rugged landscape of the Cape York Peninsula are also popular. The winter season, from May through September, is the best time to visit, when temperatures are cooler and drier weather prevails.
Accommodation: Where to Stay in Port Douglas
13. The Andaman Coast, Thailand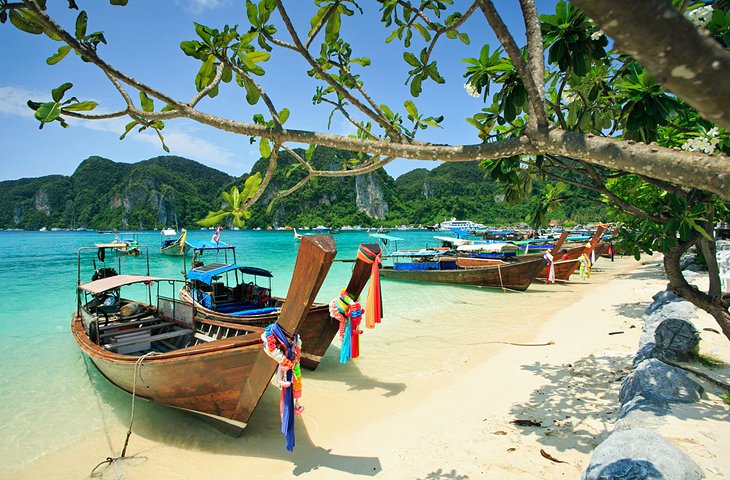 The Andaman Coast is a convenient base for exploring the spectacular islands of the Andaman Sea. These lush limestone peaks rise from turquoise waters, creating one of the planet's most striking seascapes.
Famous isles include the Phi Phi Islands such as Ko Phi Phi Don, with its many resorts, and Ko Phi Phi Leh, where the Leonardo DiCaprio movie The Beach was filmed. These islands are on the popular Phuket Day Trip circuit, but you can still find your very own peaceful patch of paradise if you venture further afield. Phang Nga Bay is home to more than a hundred of these emerald beauties, including the famous James Bond Island.
Popular areas to use as a base for exploring all this natural beauty are Krabi or popular Phuket, Thailand's largest island. The dazzling scenery continues inland at Khao Sok National Park, where you can commune with elephants amid the jungle-cloaked peaks. Accommodation ranges from homestays and budget-priced beachfront bamboo shacks to luxury villa-style resorts perched on seas cliffs, but even high-end resorts tend to be more affordable here than other tropical destinations.
This is a great choice if you're looking for exotic culture, fiery food, and ravishing scenery that doesn't break the budget. Try to avoid the southwest monsoon, which usually strikes the coast from the end of May through the middle of October.
14. The Nicoya Peninsula, Costa Rica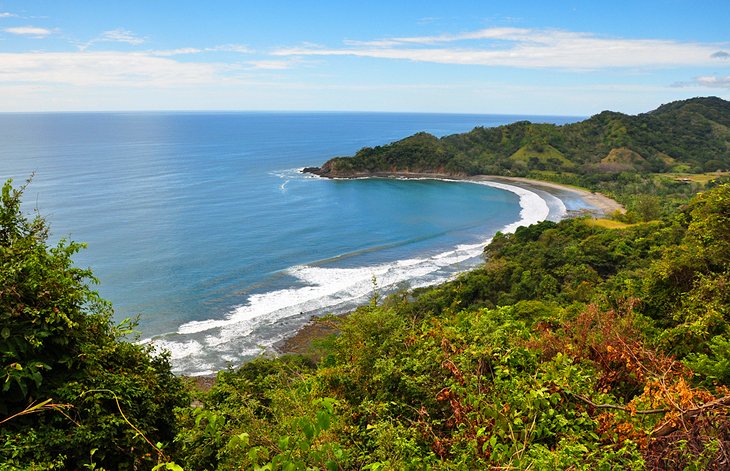 On the Pacific Coast of Costa Rica, the Nicoya Peninsula is a hot spot for surfers and eco-tourists, with its pockets of jungly forests and long beaches washed by perfect barrel breaks. Surfing can be great at any time of year.
Prime tourist towns in the region include Tamarindo, the most developed town on the peninsula, with fantastic surfing for all skill levels at Playa Tamarindo, as well as a wide range of restaurants and hotels. It lures a colorful mix of fun-loving backpackers, surfers, families, and chilled-out expats. Around Tamarindo you can snorkel, dive, horseback ride, zipline, and watch turtles nesting from October through March at nearby Playa Grande, one of Costa Rica's most important nesting grounds for leatherback turtles.
Upscale Santa Teresa in Mal Pais, along the peninsula's southwest corner, is also known for its fantastic surf, as well as yoga retreats, organic eateries, and boutique hideaways. Other prime areas to consider are beautiful Nosara, backed by a tangle of green forest; Montezuma; and peaceful Samara, one of the peninsula's least developed towns. Not far from these beach towns, the Monteverde Cloud Forest Reserve protects one of the continent's last unspoiled pockets of cloud forest.
Accommodation: Where to Stay in the Nicoya Peninsula
15. Florida Keys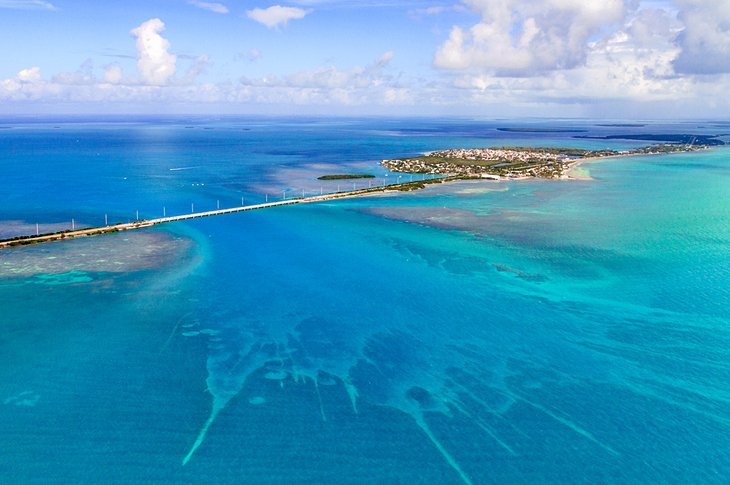 Home to the only coral reef in the United States, the Florida Keys offer a fun tropical fix, fantastic fishing, and a few pretty palm-lined stretches of sand. Trailing south of Miami for more than 110 miles to within about 90 miles of Cuba, the Keys are coral islands linked by causeways, so you can drive between them on the Overseas Highway, which runs from Key Largo south to Key West.
Top attractions include the John Pennekamp Coral Reef State Park and the Florida Keys National Marine Sanctuary off Key Largo, with great diving and snorkeling; Bahia Honda State Park, where you'll find some of the prettiest beaches; and the legendary Key West, where an anything-goes mentality complements the colorful Caribbean-style cottages and rich Hemingway history. You can also visit the southernmost tip of the United States here.
Islamorada proclaims itself the "sportfishing capital of the world," with tarpon, bonefish, and permit to catch; and Marathon is also excellent for casting a line. Big-name fishing tournaments are held in the surrounding waters each year. While you're here, try to sample some conch, a type of marine snail, as well as the famous key lime pie