10. Italy's Stelvio Pass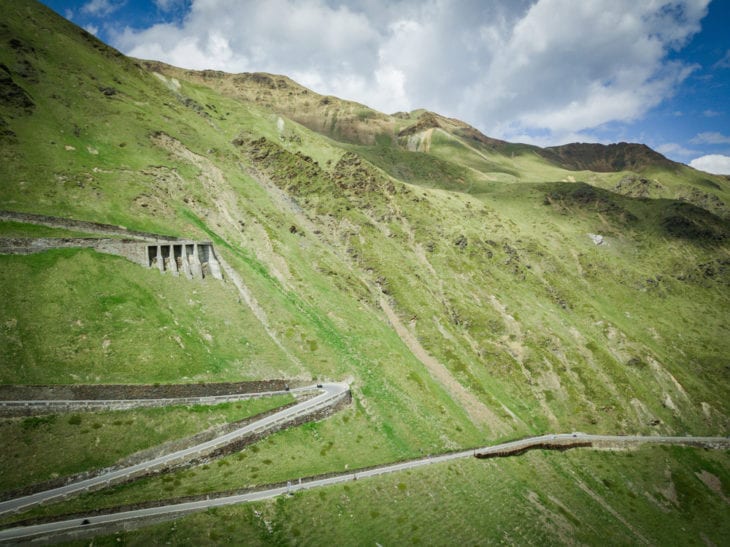 There are several roads that appear more dangerous than how they actually are. But it doesn't mean that admiring the scenic view of alpine instead of focusing your eyes on the road is acceptable.
This route resembles a scribble of a child and has more hairpins compared to Helena Bonham Carter. So, never be fooled crossing Stelvio Pass in Italian Alps.
A mountain drop that is so steep that's why looking down is a no-no. This route climbs of about 2 kilometers and only a low-set concrete barrier stands between that sheer mountain drop, the reason why looking down is a big no-no.
9. Karakoram Highway in Pakistan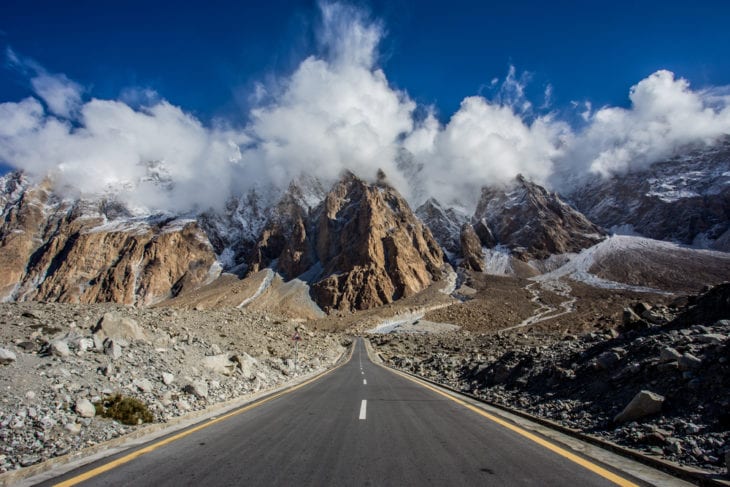 This highway connects Pakistan and China at Khunjerab Pass with 4,693 meters high. The road in Pakistan is unpaved and what's worse is that, this highway is prone to floods and landslides. However, it remains to be a tourist attraction as they pass by some breathtaking gorges along Old Silk Road. The government that built this named it "Friendship Highway" in spite of the deaths of 82 Chinese and 810 Pakistani workers during its construction which was caused mostly by landslides.
8. Los Caracoles Pass in Chile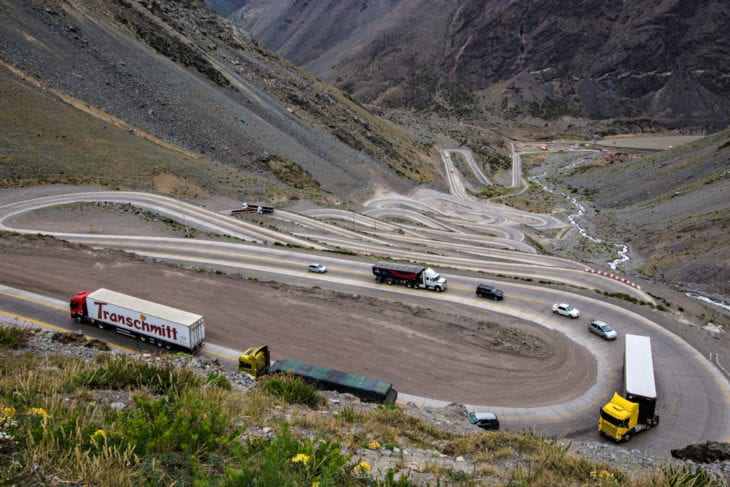 The steep, dizzying curves winding through the Andes amidst Uspallata, Argentina and in Los Andes, Chile. A secluded area elevated about 3,176 meters high and what's more frightening are those series of articulated lorries passing this route and this road is without any safety barrier. However, this road is also used by tourist coaches when it's not blocked by snow during winter. Traveling by air is another easy option or thru Transandine Railway if it will open its services.
7. Widow-maker in the United Kingdom
From 2006-2008, there are 34 serious or fatal accidents. That's why in 2010, the Road Safety Foundation named this picturesque country road by England's Peak District – as the most dangerous route in the United Kingdom. A lot of these casualties involve motorcyclists who enjoy the bucolic scenes and vast open space. However, the treacherous bends in the road are edged by stone walls and steep embankments which make it too dangerous than how it appears to be and it was named by locals as the "widow-maker."
6. Coast route in Croatia
This country has average yearly traffic accidents of 11,650, and there's no doubt that Croatia is included in the list of Association of safe International Road travel for the most dangerous roads in the world
5. Guoliang Tunnel of Taihang mountains in China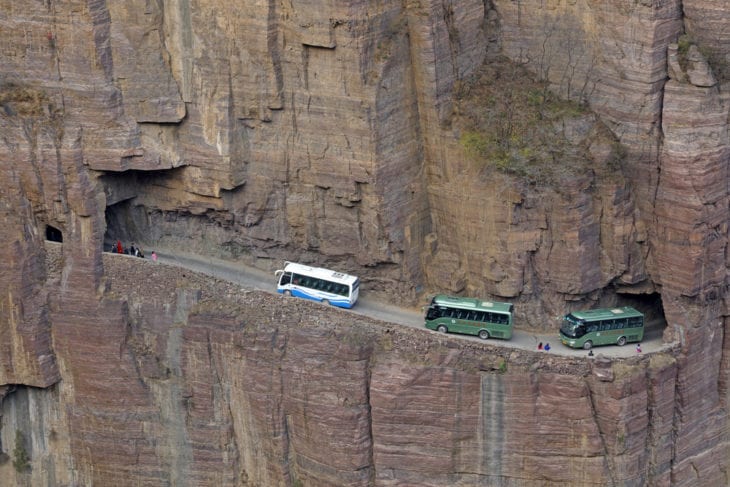 This Guoliang Tunnel Located in Henan Province, China is terrifying for the drivers nowadays. However, in 1972, the Chinese drivers that hacked this tunnel of 1.2 kilometers long along Taihang mountains edges prove that it was deadly. During the construction, some died and this tunnel was done primarily using hand tools. It's 4 meters wide by 5 meters high; some areas have an open-edge over the rocky cliff that's why it was nicknamed "the road that does not tolerate mistakes," which is clearly appropriate.
4. India's Zoji La Pass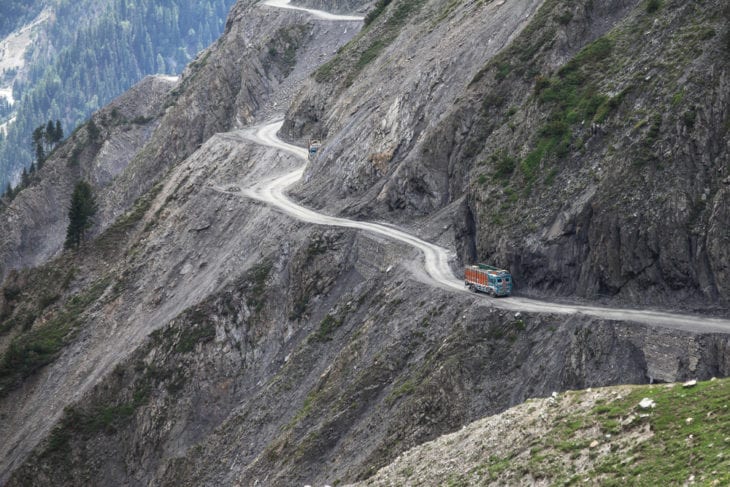 Located in between the Ladakh and Kashmir is Zoji La Pass, a mountain route that looks like a dusty roadway through Western Himalayas. However, this road keeps the Ladakh community connected to the world outside of their own even though it is often blocked by heavy snow during winter. This 9-kilometer road zigzags at 3,528 meters off the mountain without any barrier on its edge and a compact rock face on its other side. Definitely not for someone with vertigo or with fear of landslides.
3. Iraq's Highway of Death
A U.S Aircraft bombed the Iraqi trucks and tanks along highway 80 coming from Kuwait City towards Basra. This happened in February of 1991 during the 1st Gulf war while the vehicles are retreating which destroyed 2,700 vehicles which marks this road in history as "Highway of Death" . The number of deaths was never accurately confirmed and it ranges from roughly about 300 up to 10,000. The war ended days after photos of charred bodies and burnt-out vehicles were televised all over the world.
2. Bolivia's Road of Death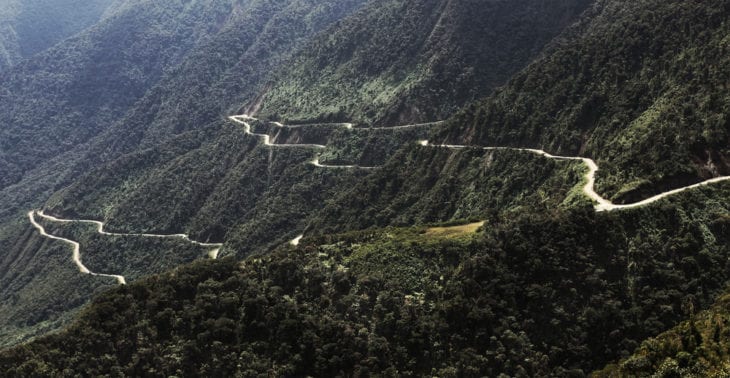 It was previously declared as the world's most dangerous road by the inter-American Development Bank. The road traveling from La Paz going in Coroico drops steeply over 65 kilometers that even the actor Charlie Sheen would have second thoughts.
For the adventure cyclists, this road becomes their playground in which it is actually dangerous. Overcrowded buses and local trucks maneuver this road in which sometimes fly off in the route killing 200 to 300 a year.
1. Traveling route from Jalalabad to Kabul, Afghanistan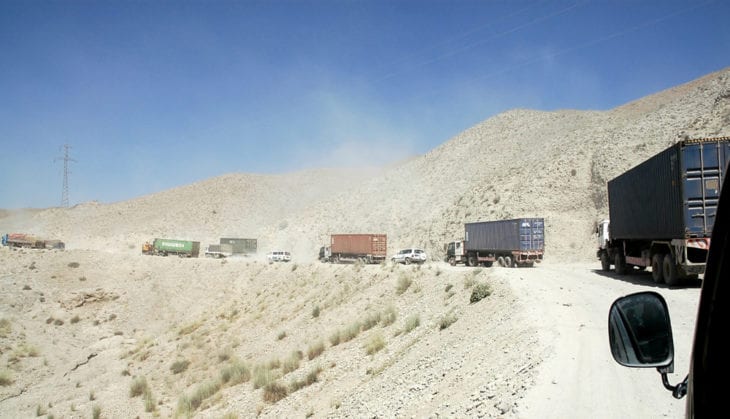 Several roads are labeled "most dangerous". However, traveling this 65-kilometer highway in Jalalabad to Kabul justifies the real meaning of it snaking across the Taliban territory.
The danger side of this road has nothing to do with the insurgency. There are two factors that make this route dangerous: it is narrow, twisting road that climbs extending to 600 meters via Kabul Gorge Highway and the Afghan drivers recklessly overtaking the fully loaded haulage trucks.
It is important to stay safe while driving or traveling.